A Few Patient Survey Responses:

"ALL staff were very knowledgeable and friendly. Helpful and caring. Very satisfied and will recommend to friends, family staff and patients. (I work in healthcare)". -Patient Survey submitted 2/8/17

"A Company that doesn't tell the patient how, but lets the patient tell the Tech., how it fits!"- Patient Survey submitted 2/14/17

"Everyone was very helpful and took their time with me to make sure I felt comfortable before leaving with my device. The practitioner was very knowledgeable and explained things in a very practical way".- Patient Survey 3/2/17

"I met with both Scott and Jerry on separate appointments. Both were courteous and helpful making adjustments to my brace so my daily use was painless and did not produce blistering or sore spots. They were great and I would highly recommend them to others".- Patient Survey 5/24/17

Submitted Testimonial February 22, 2015:

"My story begins in 1961 when I was born with a PFFD (proximal femoral focal deficiency), minus the left hip joint. In simple, a reconfiguration of the left side; compliments of a DNA switching problem. At age three, I was fitted with my first leg which consisted of a leather sheath, bars, and a foot. For the next 45 years I lived with an assortment of prosthesis, made by various technicians from Michigan to Oregon and back. None of them were ever able to put me in a comfortable working leg UNTIL...September of 2014. It was then that I was led to Active Brace and Limb; right in my own backyard (although I didn't know of them). Thanks to AB&L, I am the proud owner of a beautiful, working and comfortable leg. KUDOS, GOD BLESS AND THANKS TRAVERSE CITY ACTIVE BRACE AND LIMB!"

-M. Bramer


Jerry: "You rock! My new AFO's feel wonderful! I thought I'd never get to walk in the woods, but now I can whistle while I walk! It means so much to me. Thanks again!" -Anonymous 1/8/15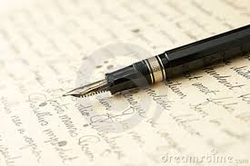 Dear Scott and Jerry:
"I am writing to let you know how pleased I am with the care and work everyone does at Active Brace and Limb. We have now been going to Active Brace and Limb for a couple of years and they have been so helpful to us. What I have found at Active Brace and Limb goes beyond what we have experienced before. From the moment we walked in the door, we were greeted and treated with "care". I can't express enough thanks to everyone there who has treated us so well. From stories, to jokes and just kindness, everyone has been so helpful. In conclusion, I would highly recommend Active Brace and Limb. I am very thankful you have such a great team! Keep up the great work!"
-Joan L. Markcum


To the Staff of Active Brace and Limb:
"Thank you so much for all of your work and patience working with me. Everyone at your office made me feel so comfortable. Thank you for taking the time to explain everything and answering my questions. You are truly great with a great team!"
-Donna Knopf

---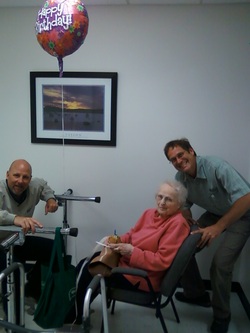 Meet Bernice Murphy, one of our Petoskey office patients. We feel fortunate to be able to assist patients such as Bernice with her prosthetic care. She recently celebrated her 90th Birthday on August 21st with the staff of Active Brace and Limb!

Pictured from left to right are Gary Pierce, Staff Prosthetist, Bernice Murphy, and Mark Bishop, BOCP. Photo compliments of Pam Radle, Certified Fitter, Receptionist, Petoskey office.

Congratulations Bernice!

Here's to many more!!



---