R Scott Mosher, CO, BOCPO, co-owner.

He attended Orthotic and Prosthetic school in Pittsburgh, PA. With 22 years of experience he holds certifications in cranial molding helmets, Providence Spinal Orthosis, stance control, KAFO's and specializes in (functional) multi ligament and osteoarthritis knee orthosis. Life long resident of Traverse City and father of two, Scott enjoys skiing, motorcycles, hunting, fishing and outdoor activities. He also enjoys participating with the great people in the Northern Michigan Adaptive Sports Ski Program.

Phone:

(231) 932-8702

scott@activebraceandlimb.net

---

Jerry Pierce, ABC CO, Co-owner.

His under grad studies were taken at Eastern Kentucky University where he played baseball and his post grad studies were done at Northwestern University in Chicago. He has 22 years of experience, certifications in cranial molding helmets, stance control KAFO's, scoliosis, pediatrics and sports bracing. His wife and kids are his life. As a family they enjoy all outdoor activities including hunting, fishing, boating and skiing. They also enjoy helping others.

Phone:

(231) 932-8702

jerry@activebraceandlimb.net

---

Mark Bishop, CPO.
Mark worked at Lansing General Hospital in the Med Rehab Department as a PT assistant for 15 years. While working with the patients there, he became interested in the orthotic and prosthetic part of the job. He switched careers when he became a Staff Prosthetist at Springer's Prosthetics and Orthotic Services. In 2006 he joined the Active Brace and Limb team. During the summer months he is an avid boater and enjoys waterskiing. In the winter he downhill skis and loves to snowmobile.
Phone:
(231) 932-8702
bishop.mark63@gmail.com

mark@activebraceandlimb.net
---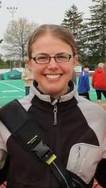 Megan Fortelka, CP.
A Northern Michigan native, Megan is originally from the Mesick area, but has lived in Lansing for the past nine years. She attended Michigan State University where she received her bachelors degree in Kinesiology in 2009 and completed her prosthetics certification at Northwestern University in Chicago in 2011. Megan started her career in prosthetics six years ago at Springer Prosthetic and Orthotic Services in Lansing. She is experienced with all levels of amputation and has worked with a diverse range of patients from pediatrics to geriatrics. When not working, Megan enjoys any form of outdoor recreation, including skiing, camping, hiking, kayaking, biking, and archery. She is also active in volunteering with youth with disabilities.
Phone:
(231) 932-8702
megan@activebraceandlimb.net
---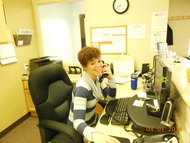 Crystal Bump, ABC Certified Pedorthist.
Crystal received her education from the International School of Pedorthics. She was previously employed at Wright and Filippis, and has three years of experience in fitting soft goods, diabetic shoes, mastectomy supplies, custom orthotics and AFO's. Crystal currently resides in Cadillac with her husband and two sons. Crystal enjoys spending time with her family, beach outings, and softball.
Phone: (231) 775-3577
crystal@activebraceandlimb.net
---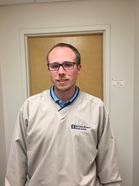 Kurt Neuwirth, ABC Certified Pedorthist, CFO.
Kurt has been working in the industry since 2006, where he started his career as an Orthotic/Prosthetic technician while completing his Pedorthic education and certification. Having been diagnosed with Guillian Barre Syndrome in 1995, he wears bilateral AFO's; thus giving him a unique perspective on his patient care. Wearing the devices that he provides allows for a greater understanding of what patients are experiencing when seeking orthotic intervention. Kurt strives to provide the best orthosis to meet the needs of his patients, helping them to achieve their desired goals and outcomes. Outside of work he enjoys spending time with his friends and family. As a new addition to the Active Brace and Limb team in Petoskey, he and his wife look forward to all of the outdoor activities that Northern Michigan has to offer.
Phone:
(231) 487-0998
kurt@activebraceandlimb.net
---

Jack Sherwood, Orthotic and Prosthetic Technician.
He previously was a foreman for an irrigation and landscape design company. He then became a rehab technician as well as a delivery driver. He considers himself a true "Jack" of all trades. Devoted father of 5 children, he enjoys the outdoors, camping, fishing and family time.
Phone: (231) 932-8702
jack@activebraceandlimb.net
---

Logan, Orthotic and Prosthetic Technician.
Class of 2010 graduate from Traverse City West Senior High. Being born and raised in Traverse City Michigan; Logan enjoys outdoor activities such as hiking, fishing, swimming, riding motorcycles, skiing, snowshoeing, and camping. Logan loves spending time with his friends and family, and almost everywhere he goes you can find his dog Trip right at his side.
Phone: (231) 932-8702
logan@activebraceandlimb.net
---
Christie, Office Manager/Accounts Payable.

With many years of experience in the medical industry, Christie primarily enjoys working in a field where patients receive the help and care they need and deserve . Married with one son, much of her time is spent with her family, which also includes their 3 dogs. Her hobbies include four wheeling, kayaking, boating, gardening, and enjoying the outdoors.

Phone: (231) 932-8702x17 christie@activebraceandlimb.net

---

Julie, Billing / Accounts Receivable.

Julie is responsible for billing all claims to the insurance companies, and posting to patients accounts. A 1988 graduate of Arizona State University, she enjoys spending time with her husband, and their fantastic son Sam. Julie also enjoys camping, exploring our beautiful state, and spending time on any beach she can find. Her hobbies include reading and knitting in her spare time.

Phone: (231) 932-8702x16 julie@activebraceandlimb.net

---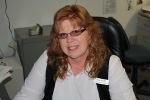 Pam, Medical Receptionist/ABC Certified Fitter
. Pam has been bringing a smiling face to our Petoskey Office since Oct. 2005. She has 25 years office experience and 14 years fitting Mastectomy Products, Lymphedema Sleeves, Compression Garments and head to toe Soft Goods. Mostly she enjoys the camaraderie of working with the public and brings pride and dedication to her work. At home she has 5 yorkies (her kids), 7 grandchildren, 2 grown boys and 3 great grandchildren she adores. She loves interior decorating, painting, decorating cakes, and enjoys playing in the flowers and landscaping.
Phone: (231) 487-0998
pamela@activebraceandlimb.net
---

Cindy, Medical Receptionist.
Cindy joined Active Brace and Limb in November of 2015, and has been providing exceptional service to our Petoskey patients ever since. Cindy grew up in the Indian River area and moved to Wyoming in 1978 where she graduated from Central Wyoming College with a degree in Business Management. She returned to Michigan in 2011 and began her career in the medical field. Cindy is a mother of two and loves all outdoor activities including camping, kayaking, fishing, hunting, boating, and mushroom hunting.
Phone:
(231) 487-0998
cindy@activebraceandlimb.net
---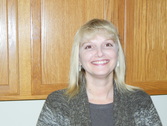 Connie, Medical Receptionist/Fitter.
Connie is one of the first smiling face that our patients see when they visit our Traverse City office! Connie is very compassionate about assisting our Mastectomy patients with all of their needs. Connie graduated from North Central Michigan College. She's a mother of two teenagers and loves spending time outdoors.
Phone: (231) 932-8702
connie@activebraceandlimb.net
---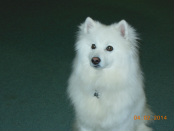 Riley Pierce, CME (Certified Mascot Extraordinaire), Traverse City location. Riley has been a part of the Active Brace and Limb team for over two years. He works full time, with the exception of his lunch break, and of course an occasional nap. Riley's primary duties include greeting patients, barking at other incoming dogs, and most importantly, milk bone inspection and taste testing (compliments of our friends at UPS and FedEx). He enjoys playing outside, car rides, treats, and spending time with his family and friends.
---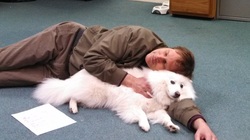 It's a Dog's day afternoon!
Mark and Riley take a little nap after a hard day's work!

---
Active Brace and Limb is a fast growing, reputable, ABC accredited company. If you are interested in becoming a part of our team, please mail your resume and cover letter to 5123 North Royal Drive Traverse City, MI 49684 Attn: Human Resources