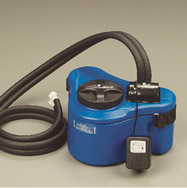 Hot/Cold Therapy Unit(s):

Cold Therapy. Use of cold therapy is intended to temporarily reduce pain and swelling resulting from injury to or surgery to areas such as the shoulder, knee and back.

Hot Therapy. Use of hot therapy is intended to temporarily increase blood circulation and lessen muscle soreness or stiffness during rehabilitation.

Units available for Rental and Purchase.
Insurance coverage depends on individual's plan, and may not be covered.

Walk-in appointments are welcome, although we suggest contacting us for product availability.


Patients must have a prescription from their physician.

Rental Pricing is $25.00 per week with a two (2) week minimum.

You must also purchase the sterile bladder/blanket for $62.00.

Total cost for a two (2) week rental is $112.00.

Because this is a rental unit, we recommend you rent it a day or two before your surgery. It is best to make an appointment as one of our practitioners will educate you on the care and use of the unit.

---
Contact us to reserve your Therapy Unit today!